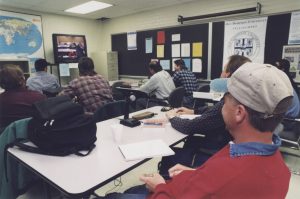 TELETECHNET was one of the largest distance learning initiatives led by Old Dominion University (ODU) in the early 1990s and 2000s. It provided students at remote locations an ODU education through the use of satellites and televisions with two-way video connections. Most of the offices dedicated to the program were housed in Albert Brooks Gornto, Jr. Hall.
History
The TELETECHNET program was launched in 1994 under the direction of Dr. Anne Raymond Savage. During her tenure, over 3,000 students earned baccalaureate and master's degrees. First offered in 1997 on the U.S.S. George Washington, the Ships to Sea Program allowed active-duty sailors in the U.S. Navy to take classes via TELETECHNET's satellites. As of 2004, Old Dominion operated over 60 sites in five states. With the elimination of the satellite feeds in 2014, these distance learning courses are now taught through ODUOnline.
Resources
Old Dominion University Photographic and Multimedia Collection, Special Collections and University Archives, Perry Library, Old Dominion University, Norfolk, Virginia, 23529.
ODU Photographic Collection, Old Dominion University Libraries Digital Collections, Old Dominion University Libraries.
References
Bookman, Steven and Jessica Ritchie. Old Dominion University: A Campus History Series. Arcadia Publishing. Charleston, South Carolina, 2017.