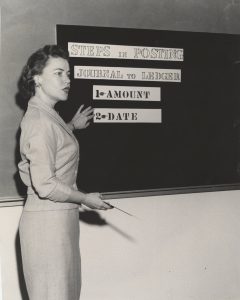 Dr. Anne Scott Daughtrey (1920-2007), was an eminent scholar and professor of business administration at both the Norfolk Division of the College of William & Mary and Old Dominion University (ODU). Dr. Daughtrey began her career at Maury High School in Norfolk, Virginia from 1946 to 1959 and came to the Norfolk Division in 1959, where she taught for almost 30 years until her retirement from ODU in 1988. Upon her retirement, she was granted the title of Faculty Emeritus from the Board of Visitors. Dr. Daughtrey received her bachelor's degree from Radford and a master's and Ph.D. from the University of South Dakota.
Service to Old Dominion and Profession
As a leader in business education, Dr. Daughtrey authored/co-authored more than 75 publications, including her first book in 1965, Methods of Basic Business and Economic Education, which was cited by a national economics education journal as the standard in its field. In 1978, she was named an Eminent Scholar at ODU, a designation given to those professors named to endowed chairs in a department, and also served as the first female chair of the Department of Business Education and Office Administration. In 1980, Dr. Daughtrey won the National Federation of Independent Business Award for outstanding teaching of business principles and economics. She is cited in Who's Who (WW) of American Women, WW in the South and Southwest, WW in American Education, World WW of Women-Cambridge, England. She was also cited in 200 Women of Achievement, The Writer's Dictionary, Dictionary of International Biography, Contemporary Authors, and Outstanding Educators of America. Dr. Daughtrey also served as a board member of ODU's Friends of the Libraries.
References
UNews, University News, and The Courier, 1971-2009, Old Dominion University.