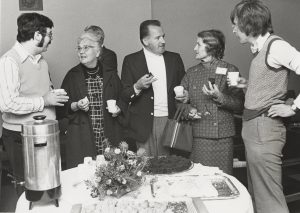 The Town-N-Gown is an independent, informal association of men and women dedicated to developing a mutual understanding between Old Dominion University (ODU) and the various civilian and military communities of Greater Hampton Roads. Established as a social committee under the Faculty Wives Club, Town-N-Gown was established in 1965 by Dr. John R. Tabb, Dean of the School of Business at ODU, his wife, Waulda, and Hugh and Margie Jo Fortescue.
Rita M. Costello Town-N-Gown Community Service Award Recipients
The Town-N-Gown Rita M. Costello Community Service Award recognizes individuals from many aspects of the Greater Hampton Roads community who have demonstrated unusual concern for and commitment to serving others. The recipients are recognized each year at Founder's Day for cumulative and continuing service to the community over a period of years. The award is in honor of Rita M. Costello, who served as president of Town-N-Gown twice and held many other leadership positions in the organization over the years. She passed away in 2007.
1992-1999
1992: Ellen Harvey
1993: Clifford Adams; The Rev. Joseph N. Green
1994: Bessie M. Pender '93; Harry R. Purkey '68; Charles B. Sowell '95
1995: Justine L. Nusbaum
1996: Juan Montero II, M.D.
1997: Ralph J. Nahra
1998: Constance C. Laws '67; Junius H. Williams, Jr.
1999: A. Rufus ('33) and Sara H. ('66, 69′) Tonelson
2000-2009
2000: John R. Morison; Elaine P. Witty
2001: Joseph M. Donnelly; A. James English, Jr. '82
2002: ODU College of Health Sciences; Hampton Roads Committee of 200+ Men, Inc.
2003: ACCESS – Tidewater Scholarship Foundation; ODU Office of Student Activities and Leadership
2004: American Red Cross of Southeastern Virginia; Dominion Virginia Power; Foodbank of Southeastern Virginia
2005: Urban League of Hampton Roads, Inc.; Linda F. Rohrer '72; Theresa W. Whibley '74, M.D.
2006: Alice Coles; William Drewry
2007: Rita M. Costello; Helen M. Bernd '72; The Honorable Paul D. Fraim
2008: Jerry Bridges; Beverly K. Sell
2009: Hugh Copeland
2010-present
2010: Karen Scherberger
2011: Julie Hill
2012: Roger Fuller '72, '76, '81
2013: Gail Easley
2014: RADM Byron "Jake" E. Tobin, U.S.N. (Ret.)
2015: Paul and Susan Hirschbiel
2016: The Reverand Curtis Harris; William A. Hunton Family YMCA
2017: R. Stuart Cake
Resources
Town-N-Gown Records, Special Collections and University Archives, Patricia W. and J. Douglas Perry Library, Old Dominion University Libraries, Norfolk, VA 23529.
References
Bookman, Steven and Jessica Ritchie. Old Dominion University: A Campus History Series.  Arcadia Publishing. Charleston, South Carolina, 2017.