The Roseann Runte Quad contains green space for numerous events and activities for students on the campus of Old Dominion University (ODU). The quad, located on the west side of campus in front of the Student Recreation Center (SRC), contains six residential dormitories for approximately 1500 students. It is named after Roseann Runte, the seventh and first female president of ODU.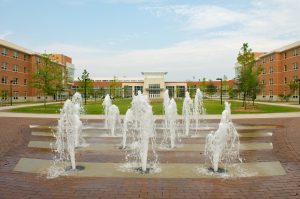 History
Built between 2006 and 2009, six residential dormitories were constructed around the quad to create more updated student housing on campus. Each house – England, Virginia, Ireland, Scotland, France, and Dominion – represent the historical background of Virginia. The Office of Housing and Residence Life and the Spectrum Floor for the LGBTQ community are located inside Virginia House.
Resources
Old Dominion University Photographic and Multimedia Collection, Special Collections and University Archives, Perry Library, Old Dominion University, Norfolk, Virginia, 23529.
ODU Photographic Collection, Old Dominion University Libraries Digital Collections, Old Dominion University Libraries.
Building the University, Old Dominion University Libraries Digital Exhibit, 2005.
References
Bookman, Steven and Jessica Ritchie. Old Dominion University: A Campus History Series. Arcadia Publishing. Charleston, South Carolina, 2017.