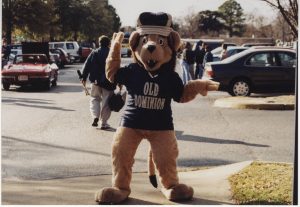 Big Blue is the official mascot of Old Dominion University (ODU). Big Blue is a lion with a blue crown on his head and wearing either a football or basketball jersey with the number "00" on the front.
History
When ODU became independent from the College of William & Mary in 1962, while there was no official mascot, Old Dominion College took on a mace and crown as their symbols in publications and athletics. When Big Blue made his debut during a basketball game in December 1971, he was more menacing than friendly. A staff writer for the Troubadour, the yearbook at the time, noted "Miss Norfolk, Regina Royster, was on hand for half-time festivities, as was 'Big Blue', a seedy-looking lion who serves as Mascot." Harry Lozon, a former student and class of 1970, was selected from a committee of faculty and alumni to be the first person to wear the costume. Ironically, the first costume was more orange than blue, and when trying to dye the costume made it more grey-green than blue, the university had to hire a seamstress to sew on powder blue fake fur to approximate the school colors at the time. Even though Big Blue has evolved dramatically since his first appearance. Through the 1970s and into the 1980s, Big Blue evolved from a fierce lion into a soft, friendly lion. By the 1990s and early 2000s, Big Blue has morphed into his current look with little changes over the years. In 2011, Big Blue was voted as the Capital One National Mascot of the Year. In addition to athletic games, Big Blue is also known to show up to other events across campus including Commencement and Convocation.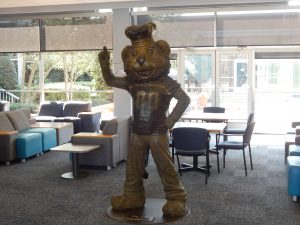 In October 2013, a seven-foot-tall bronze sculpture of Big Blue was unveiled in Webb University Center to start a new campus tradition. Students take their photograph with Big Blue at the start and end of their Monarch journey. The statue was conceived by the Student Government Association (SGA) and created by sculptor Richard Stravitz. Throughout their time at Old Dominion, students can rub Big Blue's belly for good luck and prosperity.
Resources
The Many Face of Big Blue, Old Dominion University Libraries Digital Exhibit, 2012.
ODU Photographic Collection, Old Dominion University Libraries Digital Collections, Old Dominion University Libraries.
Old Dominion University Photographic and Multimedia Collection, Special Collections and University Archives, Perry Library, Old Dominion University, Norfolk, Virginia, 23529.
References
Bookman, Steven and Jessica Ritchie. Old Dominion University: A Campus History Series. Arcadia Publishing. Charleston, South Carolina, 2017.
The Many Face of Big Blue, Old Dominion University Libraries Digital Exhibit, 2012.