Norfolk Division and Segregation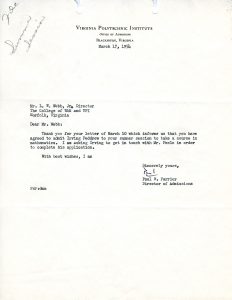 During the 1950s and 1960s, the Norfolk Division of the College of William & Mary denied admission to African American undergraduate students to comply with the Virginia laws of segregation.
History
During World War II, there were several instances of African American Naval officers taking classes offered by the Norfolk Division at Naval Station Norfolk. From 1951 to 1964, to comply with the laws of segregation, William & Mary implemented a policy to deny admission to all African American undergraduates at its Williamsburg and division campuses. At the Norfolk Division, however, there were instances where William & Mary did allow African American students to attend classes in the Evening College or during the summer session. If an African American undergraduate applied to William & Mary or its divisions, they would deny the admission and refer them to an African American institution such as the Norfolk Division of Virginia State College, now Norfolk State University. If a course was not offered at an African American institution, they had the choice to either approve or deny the application, depending on whether the Williamsburg or division campuses would accept them. After the Civil Rights Act of 1964, Old Dominion College opened its doors to African Americans on a larger scale, with Margaret Simmons becoming the first African American graduate in 1966 with a master's degree in English.
Resources
Celebrating Diversity and Inclusion at ODU Timeline, Old Dominion University Libraries Digital Exhibit, 2016-present.
Office of the President. Lewis W. Webb, Jr. Records, Special Collections and University Archives, Perry Library, Old Dominion University, Norfolk, Virginia, 23529.
References
Bookman, Steven and Jessica Ritchie. Old Dominion University: A Campus History Series. Arcadia Publishing. Charleston, South Carolina, 2017.