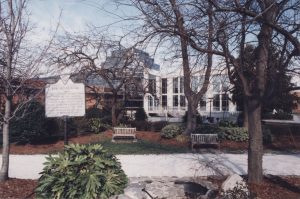 Quarantine Road is a path that cuts through the center of the Old Dominion University (ODU) campus from Albert Brooks Gornto, Jr. Hall, passes the Alfriend Chemistry Building and behind Webb University Center, end extends into the Larchmont/Edgewater neighborhood. The path is lined with white sea shells that used to mark the path through Norfolk.
History
Quarantine Road is one of the oldest roads in Norfolk still in existence. Constructed in the 18th century, the road was used by foreign passengers and merchants to minimize the risk of spreading diseases, such as yellow fever. The road was used less frequently after the Union troops invaded Norfolk in 1862.
Resources
Old Dominion University Photographic and Multimedia Collection, Special Collections and University Archives, Perry Library, Old Dominion University, Norfolk, Virginia, 23529.
ODU Photographic Collection, Old Dominion University Libraries Digital Collections, Old Dominion University Libraries.
Building the University, Old Dominion University Libraries Digital Exhibit, 2005.
References
Bookman, Steven and Jessica Ritchie. Old Dominion University: A Campus History Series.  Arcadia Publishing. Charleston, South Carolina, 2017.