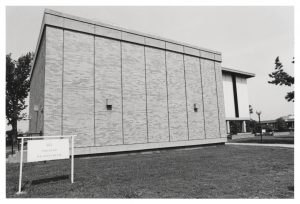 The Pretlow Planetarium is located between the Mills Godwin Life Sciences Building and the Alfriend Chemistry Building on the campus of Old Dominion University (ODU). Operated by the Department of Physics, the planetarium offers ODU faculty, staff, and students, as well as the Hampton Roads community, a chance to explore space. Screenings of what is currently in the night sky, as well as films and the popular Bad Movie Series, are displayed on the planetarium's 40-foot screen. The building is named in honor of Mary Denson Pretlow, head of the Norfolk Public Library from 1917 to 1947.
History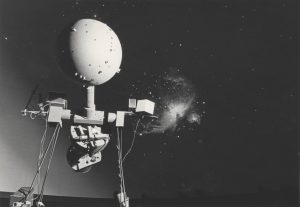 The Pretlow Planetarium first opened in 1967. Funds for the building came from an anonymous donor. The first director of the planetarium was Dr. C.S. Sherwood until 1974 when it was taken over by Dr. Bruce Hanna who went on to direct the planetarium until his retirement in 2005. Since 2012, the planetarium has been directed by Justin Moore. In 2019, as part of the $75.6 million construction of a new 110,000 square-foot Chemistry Building, it was announced that the Pretlow Planetarium will be torn down and a new planetarium with a 48 foot screen as well as new seats and an additional projector.
Resources
Old Dominion University Photographic and Multimedia Collection, Special Collections and University Archives, Perry Library, Old Dominion University, Norfolk, Virginia, 23529.
ODU Photographic Collection, Old Dominion University Libraries Digital Collections, Old Dominion University Libraries.
Building the University, Old Dominion University Libraries Digital Exhibit, 2005.
References
Bookman, Steven and Jessica Ritchie. Old Dominion University: A Campus History Series.  Arcadia Publishing. Charleston, South Carolina, 2017.