The ODU Sailing team is one of the most successful collegiate programs in the country. The ODU Sailing Center is home to the men's and women's sailing teams at Old Dominion University (ODU). The center is located behind G. William Whitehurst Hall along the Elizabeth River on the west side of campus. During the summertime, the Sailing Center also offers lessons to the local community.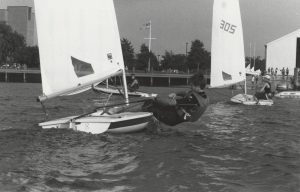 History
From 1986 to 1995, K.C. Fullmer, ODU's first sailing All-American, coached the sailing team to seven national championships and two Fowle Trophies for the top sailing program in the country. In 1995, former ODU all-star Mitch Brindley took the helm, and he has compiled an additional seven national championships for ODU.
Resources
Old Dominion University Photographic and Multimedia Collection, Special Collections and University Archives, Perry Library, Old Dominion University, Norfolk, Virginia, 23529.
ODU Photographic Collection, Old Dominion University Libraries Digital Collections, Old Dominion University Libraries.
Building the University, Old Dominion University Libraries Digital Exhibit, 2005.
References
Bookman, Steven and Jessica Ritchie. Old Dominion University: A Campus History Series. Arcadia Publishing. Charleston, South Carolina, 2017.